W8IO Rooftowers LLC - 8 Foot Very Heavy Duty Ham Roof Tower
(updated 13 June 2019)
---
IO-815HD Ham Roof Tower (full kit) $625 List



Specifications

IO-815HD

Closest Competitor's Tower

Total Height
(feet)
Height above Tower
(feet)
Max. Antenna Area
at 80 mph


(sq. ft.)

Recommended




Mast

List Price
$625 (full kit)


8
0
15
AL 2"OD .15w
Tower Height
8 feet (96 inches)
9 feet (108 inches)
8.5
0.5
15
AL 2"OD .15w
Base Width
32 inches
36 inches
9
1
13.3
AL 2"OD .15w
Tower Weight
70 lb.
54 lb.
9.5
1.5
12.6
AL 2"OD .15w
Max. Antenna Wind Area at tower top
15 sq. ft. at 80 mph, 90% within 1 ft of tower top
23 sq. ft. at 85 mph
10
2
12
AL 2"OD .15w
Max. Antenna + Rotor + Mast Weight
250 lb.
120 lb.
10.5
2.5
11.4
AL 2"OD .15w
Tower Top Width
5 inches
5 inches
11
3
10.9
AL 2"OD .15w
Rotor Plate location from Top
64.5 inches
34.75 inches
11.5
3.5
10.4

GS 2"OD .12w

Rotor Mounting Options
Hy-Gain or Yaesu

(specify when ordering)

Hy-Gain and Yaesu
12
4
10
GS 2"OD .12w
Thrust Bearing (recommended, +$70)
Yaesu GS-065

(specify when ordering)

recommended
12.5
4.5
9.6
GS 2"OD .12w
Maximum Mast Diameter
2.5 inches
2.375 inches
13
5
9.2
GS 2"OD .12w
Mast (recommended, not included)
2" or 2.5" OD x 10 foot galvanized steel
Texcom Steel masts or US Tower M10
9 feet long max.
13.5
5.5
8.9
GS 2"OD .12w
Leg material
6061-T6 aluminum (1/4" thick x 2" angle)
6061-T6 aluminum
(1/4" thick x 2" angle)
14
6
8.6
GS 2"OD .12w
Shelf Material
6061-T6 aluminum (3/16" thick x 2" angle)
6061-T6 aluminum
(1/8" thick x 1.5" angle)
14.5
6.5
8.3
High Str.
GS 2"OD .12w
Rotor Shelf Material
6061-T6 aluminum (1/4" thick x 2" angle)
6061-T6 aluminum
(1/8" thick x 1.5" angle)
15
7
8
High Str.
GS 2"OD .12w
Foot material
6061-T6 aluminum (1/4" thick x 2" angle)
6061-T6 aluminum
(1.5" x 2" angle)
X-Brace and V-Brace material
6061-T6511 aluminum (3/16" x 2" flat)
6061-T6511 aluminum
(1/8" x 1" flat)
Assembly Hardware
5/16"-18 18-8 stainless steel
1/4"-20 18-8 stainless steel
Foot to Leg hardware
3/8"-16 18-8 stainless steel
3/8"-16 18-8 stainless steel
Lockwashers/nylon locknuts
Yes

(specify when ordering)

nylon locknuts
Holes Deburred
Yes
?
Part Edges Deburred
Yes
?
Climbable
Yes - with tower climbing belt or harness
No
Tower fully assembled before shipment
Yes
No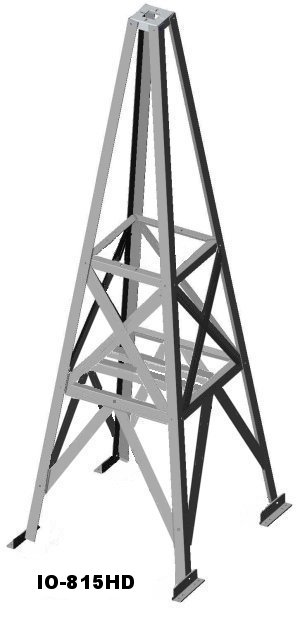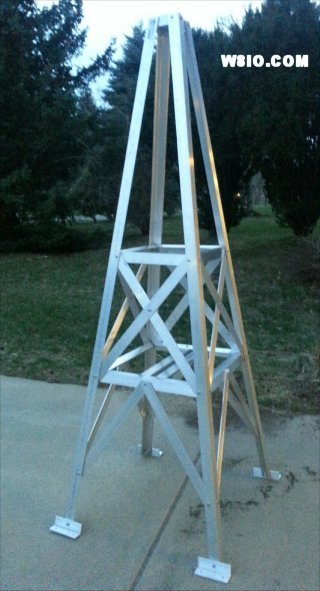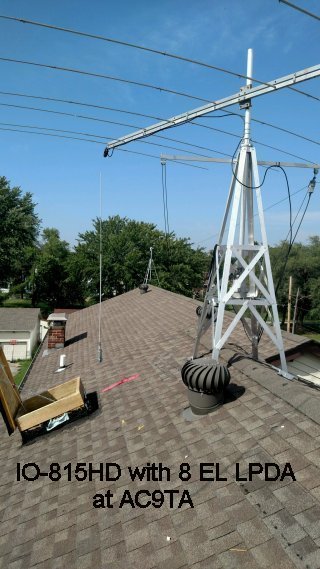 Model IO-815HD
The IO-815HD is perfect for moderate sized HF beam antennas such as the Mosely PRO-67C, Hy-Gain 203BA, 204BA, Explorer-14, TH7DX, KIO 5-band Hex Beam, ... The IO-815HD is also one of the best roof towers to use for stacking a VHF beam along with a small HF beam.
Model IO-815HD Manual 8 Oct 2018
(new)
Model IO-815HD Rooftower calculations
It has become very expensive to ship the 8 foot tall roof towers! If you can buy the 8 foot tower legs locally and drill the holes, I can cut, drill and ship you the shorter parts at a reasonable cost. 6061-T6 aluminum angle can be purchased through
OnlineMetals
. They have warehouse locations in Toledo, OH; Wallingford, CT; Atlanta, GA; Dallas, TX; Los Angeles, CA and Seattle, WA.
Speedy Metals
has warehouse locations in Milwaukee, WI; Appleton, WI; Rockford, IL; Fraser, MI.
Zoro
has 6061 aluminum angles and orders over $50 ship free!
---
---
contact Roger: email to
rgcox2 (at) gmail.com
Roger Cox, W8IO (ex-WB0DGF) - Spring Lake, MI 49456