The

Wisconsin

to

Michigan

Bridge Proposal

Lake Michigan Bridge - the longest bridge in the world?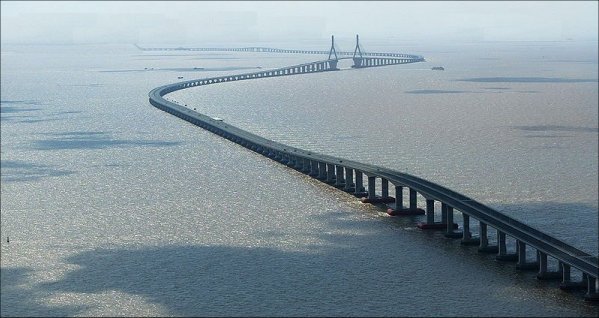 updated 6-Aug-2011
---
Have you ever dreamed of driving from Milwaukee or Minneapolis to Grand Rapids or Detroit WITHOUT going through Chicago? Wouldn't that be wonderful? Yes, there are car ferries that cross Lake Michigan, from Milwaukee to Muskegon and from Manitowoc to Ludington. However, they only run in summer, cost more than $200 for 2 people and a vehicle and are unreliable due to engine breakdowns and EPA requirements. Yes, there is an alternate route through the Upper Penninsula of Michigan, however that adds hundreds of miles and several hours to a car trip from Milwaukee to Grand Rapids.
What if there was a bridge across Lake Michigan from near Sheboygan, WI to near Shelby, MI? Would you use it if it cost a toll? Is it possible to construct? Is it something that Sheboygan and Shelby neighbors would allow?
I have been thinking of this since I moved to western Michigan a couple of years ago. I have looked around the web and found a few other people considering the same idea. Maybe it's not possible. I don't know. But if it is possible, someone needs to dream, and to think, and others need to do the same, and possibly, in 10 or 50 or 100 years from now, it might happen.
---
Links to other people with the same idea:
Lake Michigan Bridge forum question
Why not build a bridge across Lake Michigan?

---
Links to other very long bridges:
Lake Pontchartrain Causeway
Jiaozhou Bay Bridge
List of the longest bridges in the world
---
Links to Lake Michigan car ferries:
---
Roger